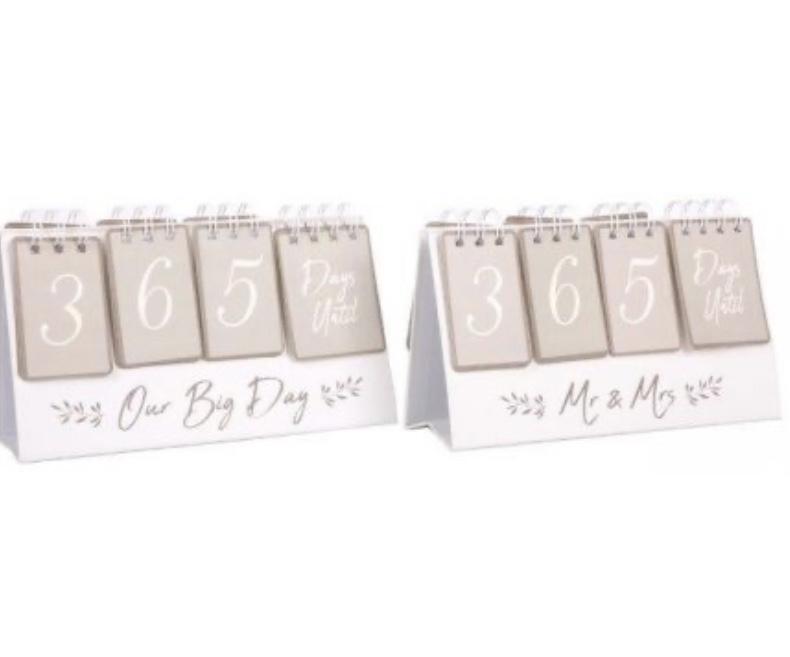 Big Day and Mr & Mrs Table Top Calendar Wedding Gift 
Our Big Day and Mr & Mrs table top countdown calendar, is the ideal way to mark of the days until the BIG DAY.
A chic gift item for newly engaged couples. Why not use it after the Wedding to count down to the Honeymoon? 
Your wedding? Why not treat yourself! Enjoy reminding your betrothed on a daily basis with how many sleeps you have left as Miss & Mr and how long it will be until you are Mr and Mrs. 
The Wedding Countdown has long become a great way to build excitement in the build up to any special event. Such as: Holidays, Weddings, Honeymoons and even Christmas! 
Especially handy for those less organised or even those bordering on Bride Zilla! (You know who you are).
An ideal item for the home, office or kitchen counter! Enjoy marking each day off and let the excitement build.

a modest size of 22cm x 12cm, meaning this must have item won't take up too much room, and won't be lost easily wither! What's not to love? 
Decide this item isn't for you? Under our 14 day returns policy, you can get a full refund or exchange for another item within 14 days. 
Feel free to reach out to our experts on the online chat with any questions or for a recommendation. 
With fast delivery this also makes the perfect last minute gift! We have all been there! With an average lead time of around 3 - 5 working days at the latest. 
With our new rewards account earn points for every purchase made and save on gist's forever more! We all know what points make .... PRIZES!