---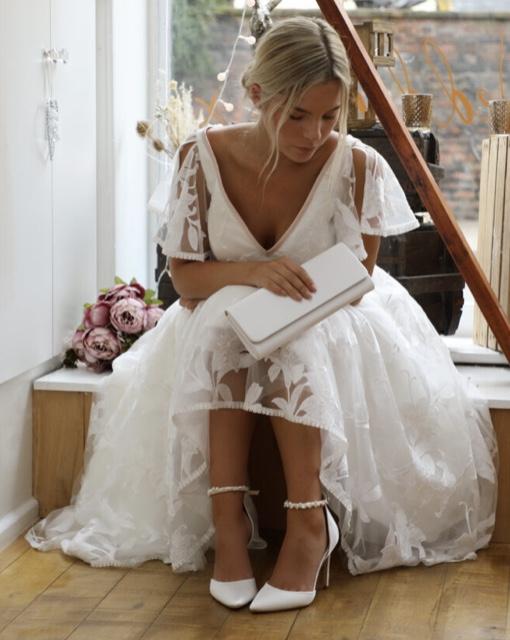 The Ella Bridal Shoes
"Ella, ella, eh eh eh"
We are full on heart eyes, drooly face emoji gaga over these gorgeous shoes!
One look says it all. Love at first sight is real. And it's all for Ella.
Decadent D'orsay heels, crafted in ivory satin and adorned with iridescent, light catching keshi pearls.
The luxurious leather lining is cushioned in all the right places to ensure ultimate comfort. Whilst the delicate ankle strap and fully enclosed point keep you feeling secure.
What more can we say? What more need we say?
Oh yeah! Ella is dyeable, too! Dye them any shade you desire with our inhouse dyeing service, so you can wear them again and again and again….you get the point. Simply message us for more details on dying.
Plain ankle strap included for a more understated, but no less elegant look.
Ideal for a Bride, Mother of the Bride/Groom, Maid of honour, Bridesmaid, or even a glamourous wedding guest. 
A luxurious and elegant handmade shoe screams quality and luxury, hand made here in the UK and a true favourite for Brides looking for that comfort and luxury underfoot. 
Available in sizes 3,4,5,6,7,8,9, (UK sizes) for alternatives, please feel free to reach out to one of our helpful agents on the online chat who will be happy to answer any questions and make recommendations. 
All Shoes come with a traditional sixpence in a Blue velvet box along with the traditional "Something Old" poem. Meaning you can tick off at least two of the traditions in one! (Something Blue and the Sixpence). 
A beautiful Heel height of 100mm, ensures comfort throughout the day without loosing the elegance and beauty of the shoe.
Additional Information