---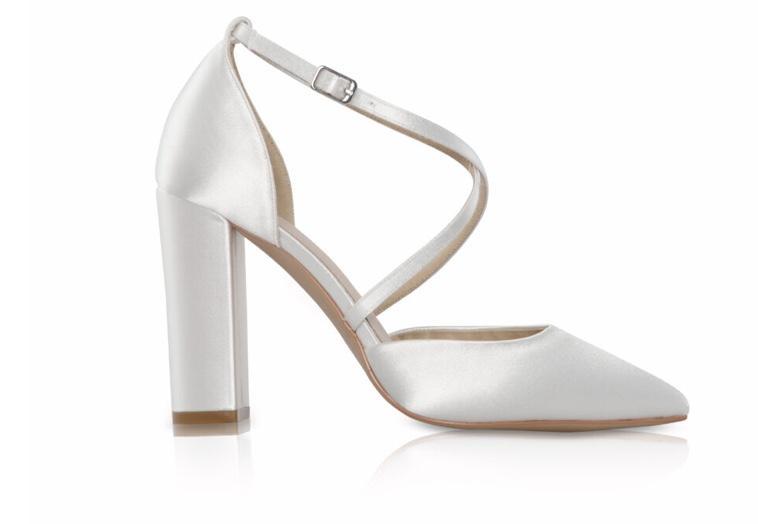 The Kiera Bridal Shoes
Swoon-worthy gorgeousness!
Kiera is a modern two part court shoe handcrafted in dyeable ivory satin featuring an elegant pointed toe, stylish crossover straps, and a high block heel. Adding style, sass and stability to your special day and beyond, Kiera can be dyed after the big day and worn over and over again! What's not to love?
Whether before or after you big day, you shoes can be dyed any colour you choose.  
With 40 standard colours and a custom colour match options to choose from.
Ideal for bridesmaids, wedding guests or just for a bit of fun!
Interested in dying? simply drop us a message and we will take care of it for you. 
Ideal for a Bride, Mother of the Bride/Groom, Maid of honour, Bridesmaid, or even a glamourous wedding guest. 
A luxurious and elegant handmade shoe screams quality and luxury, hand made here in the UK and a true favourite for Brides looking for that comfort and luxury underfoot. 
Available in sizes 3,4,5,6,7,8,9, (UK sizes) for alternatives, please feel free to reach out to one of our helpful agents on the online chat who will be happy to answer any questions and make recommendations. 
All Shoes come with a traditional sixpence in a Blue velvet box along with the traditional "Something Old" poem. Meaning you can tick off at least two of the traditions in one! (Something Blue and the Sixpence). 
A beautiful Heel height of 100mm, ensures comfort throughout the day without loosing the elegance and beauty of the shoe.