---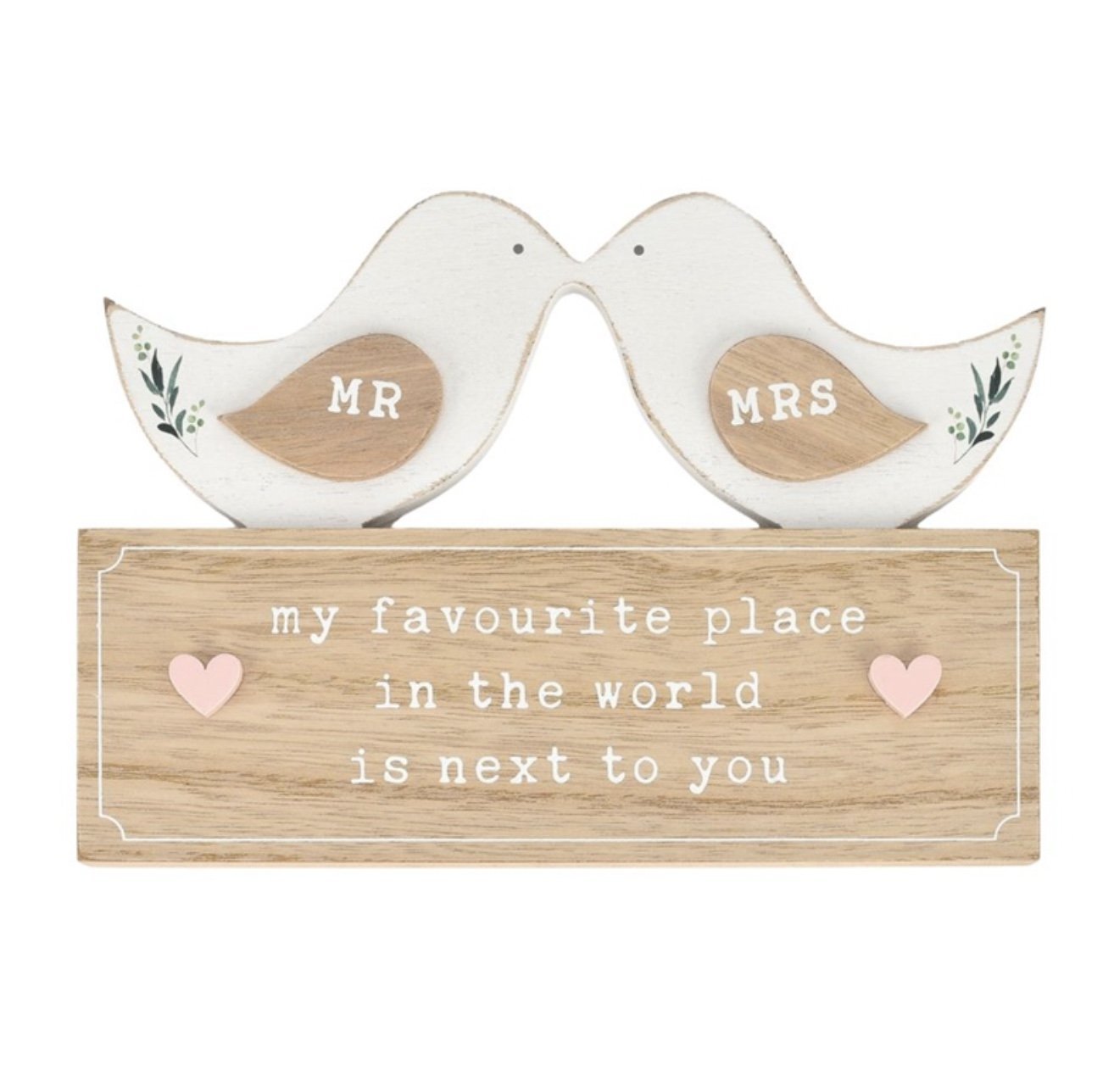 Mr & Mrs Wooden Bird Plaque Wedding Gift 
These Mr & Mrs Wooden Bird Plaques With Sweet Phrase On The Base : "My favourite place in the world is next to you" , makes the ideal gift for a wedding gift, engagement gift or for your spouse/ partner. 
Maybe Valentines day or an anniversary? 
Something to place within the newlyweds home to remind them of their special day, mark their engagement or just a token of congratulations. A cute plaque that compliments and interior design or home décor. Maybe place it in an office or hallway around the home? 
Proven extremely popular for Grooms to be as an idea of the traditional Morning of the wedding gift for his Wife to be. 
Made from quality treated wood and secured by strong and sturdy rope. This item has a natural rustic/ Shabby Chic feel to it, meaning it will compliment any home décor. 
It is becoming increasingly difficult  to purchase wedding gift and Engagement gifts. Lot's of couples now opt for a less traditional approach when asking for gift ideas, gone are the days they provided a simple household items list. With newly weds now opting for less conventional Gift requests coming in many different forms from financial contribution requests to no gifts at all.  Here at Elegance of Elena, we understand its difficult to find the perfect token gift as a stand alone or to accompany a financial contribution. But with this gift, we have you covered. 
If you decide this item isn't for you, you have 14 days to return it to us for a full refund or exchange. Feel free to reach out to one of our agents on the online chat with any questions you may have or for some inspiration. We will be happy to make recommendations. 
 

Size: 20 x 15cm