---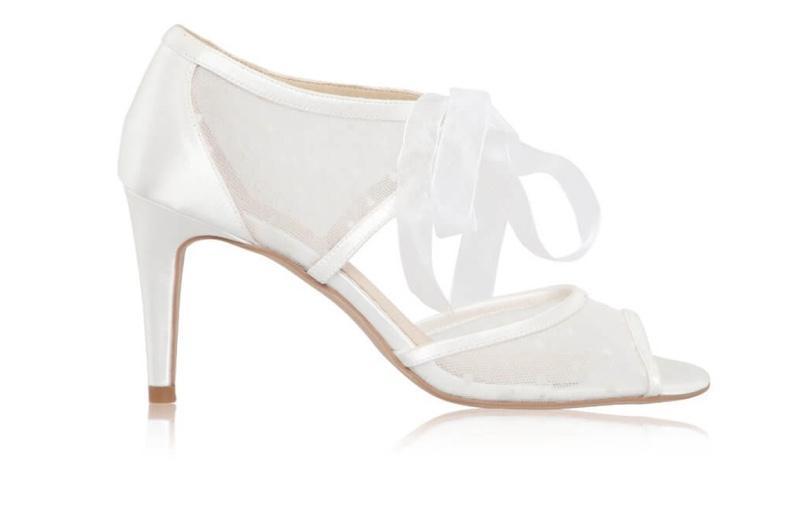 The Petra Bridal Shoes 
Petra is adorable, unique and uber feminine. This gorgeous unlined shoe is made from delicate ivory spot mesh with satin heels. 
Extra cushioning in the soft leather insole and secured with a shimmery organza ribbon lace.
Ever versatile and eye-catching the polka dot has stood the test of time. These iconic little dots suit any style, be it modern or vintage.
We could see these gorgeous shoes paired up with anything from trousers to tea lengths and everything in between. 
Can you imagine those pretty polka dots peeping out from under a slinky sheath or mermaid gown? 
The versatility doesn't end there either. The satin and spots are dyeable, too. Use our inhouse dyeing service to choose from 40 standard colours (or custom colour match) and add matching colour ribbon laces. Et voila! A whole new shoe! Simply message us for details.
Ideal for a Bride, Mother of the Bride/Groom, Maid of honour, Bridesmaid, or even a glamourous wedding guest. 
A luxurious and elegant handmade shoe screams quality and luxury, hand made here in the UK and a true favourite for Brides looking for that comfort and luxury underfoot. 
Available in sizes 3,4,5,6,7,8,9, (UK sizes) for alternatives, please feel free to reach out to one of our helpful agents on the online chat who will be happy to answer any questions and make recommendations. 
All Shoes come with a traditional sixpence in a Blue velvet box along with the traditional "Something Old" poem. Meaning you can tick off at least two of the traditions in one! (Something Blue and the Sixpence). 
A beautiful Heel height of 90mm, ensures comfort throughout the day without loosing the elegance and beauty of the shoe. 
Heel Height: 90mm
Heel Height Range: High Heels
Lining/ Sock: Leather, Other Materials
Material: Dyeable Satin, Other Materials, Textile
Shoe Width: Standard